Since Solidream is a cycling trip around the world, we keep setting ourselves major challenges throughout our progress, like reaching Antarctica, or crossing South Lipez in Bolivia in June. This time, challenge is hard : to cross Amazon by bike, on a road crossable only during dry season, through the wildest places and under tropical heat. As an unanimous opinion, it's the most difficult part of our adventure so far.
Progressing with heavy weight on the shoulders
After our way through the Amazon in Bolivia, the Brazilian stage of this challenge had begun pretty badly with several problems on Siphay's bike. From the very first kilometers, it abandonned us and we know it will be as hard as hopping on one foot for the next 1400 kilometers: many of his gears simply do not function and we will spend hundreds of hills pushing his bike or biking on harder gear ratios.
To face this issue, 2 solutions: either we go uphill by foot, or Brian and Morgan push Siphay in the back. In any case, those are additional efforts in an already awkward environment.
Switching from "travel" to "adventure"
In the Amazon, it's hot, very hot. The temperatures we're facing easily exceed 40°C in the shade, and above all, the 90% humidity makes the task very hard. We calculated that the 3 of us drank almost a ton of water in a month, which makes 10 liters a day per person, half of it coming directly from earth. Indeed, with such a thirst, we have no choice: we collect water in the river (not always clear) or in the wells of farms along the road, when they exists …
At night, before going to bed, eating a hot meal gets you as wet as after a shower. The environment is hostile: many insects are always there to annoy you, snakes are not visible but still there. We don't forget the warnings from local people about the "onça" (jaguar) that hunts at night and can break your skull within seconds if you are confused with one of its preys.
Morgan remembers a difficult night: "As we were sleeping in tents, Brian wakes me up and tells me there are some ants in the tent. I immediately fall back to sleep, not bothering to worry. I wake up a few minutes later, and have the feeling I'm getting bitten. I have a look at the top of the tent and see an unusual and dark shape, plunging the tent into darkness, and I discover plenty of holes in our mosquito net. I wake the others up, our tent is now being eaten by pretty aggressive ants, and we will fight a long time against them…"
Besides, the road doesn't help: a 1400 km track, with hundreds of kilometers of 12 to 18% hills, requires a huge effort in our particularly disadvantaged situation. Sometimes the slopes are so steep that we need to find some footholds, as in climbing, to wedge our feet and push our bikes. On the last part, we did 6500 m of elevation gain, in less than 5 days on our loaded bikes ! When it rains it's extremely hard to progress in the sticky mud and, if you try the experience, you get 2 kilos of mud stuck everywhere to carry around along a road where your tires cling on the climbs, but skid dangerously downhill… plus a bike to wash !
Morgan describes the 26th of August : "We leave the village of Jacaréacanga, 400 km south of Itaituba, and begin the most difficult part of our Amazon trip. This Friday we run on a terrible road. Hills after hills, heat weakens us dangerously, and sweat burns the eyes. Around 4 PM, after 80 km, Siphay stops on a top of a hill, puts his bike against a bank, sits down and leans against his saddlebag, without saying a word. I drop my bike next to his, throw my hat, and lay on the ground, as Brian stops and sits down, in the middle of the track, without bothering to store his bike on the wayside… We're exhausted. I had never pushed my body so clos to its limits, I felt like my blood was boiling, my heart was beating stronger than ever, I found myself having chills in that green furnace. The effort was so hard. And after each pass, I hoped I'd see a long straight and flat road…But this day, we rode 98 km without this dream coming true."
Discovering a little known region
To cross such a hostile region keeps you, as often, good surprises. Along the road, every 400 km or so, a village offers us some fresh air and sodas to relax. Rest of time, farms or, more often, only jungle. Sometimes, sadly, jungle goes up in smoke, due to intentional fires. In any case, people display extraordinary hospitality. Even in Europe, for example, we wouldn't have been helped so much. We're not ready to forget multiple roofs to sleep, meals, and helping hands for our repairs!
Brian remembers one of those nice surprises: "we are just getting out of the jungle of the Amazon National Park, completely exhausted, and we see a truck that quickly stops beside us. The driver, Jayudo, starts chatting with us. After a while, he says he admires us, hands us a money note and says :'Here you are, you deserve a good meal in the next village'. We hit the road, stunned, with a little smile, and pedal with little more enthusiasm to this good meal, which falls exactly on the anniversary of our trip!"
In Solidream, there's Solidarity, and here we met solidarity everywhere. Our adventure fascinate people in Amazon, and they don't hesitate to call it "locura" (crazy in Portuguese) and we remind them that it's through them that we are progressing every day. On our way, we had the chance to meet an indigenous tribe who offered us a house on stilts and their marvelous cooking, while Siphay had to go back for a day, to change his broken rim. Meeting people who speak a language of the forest is a unique experience.
Siphay remembers one of our meetings: " 'Kilometer 180', a strange name for a town ! We were so impatient to get there, in the middle of the day, probably because of the cracks coming from my rear rim. The style here is pleasant, it's like a far west atmosphere. Suddenly, I'm surprised by the pickup crossing the road just in front of Brian, a few meters in front of Morgan and me. Not sure I understood what he said, but the man called Israel asks us if we have already lunched and he invites us to follow him. Does he want to advise us a good restaurant ? He finally offers us a great feast in a restaurant, and 2 liters of fresh soda, a pure pleasure we appreciate in such conditions… As I'm writing those lines, Brian and Morgan have left to get some local fresh fruit juices, offered by a Brazilian guy we crossed a few hours before! I will always feel a little discomfort but also a great gratitude to these generous strangers."
We saw a lot of animals, even if we missed the mythic jaguar. All the better, considering the risks, but it's a shame for the experience, for the sensational eye contact of this beautiful predator. On the other hand, magnificent birds are all along the road, lizards wriggle as we pass, and monkeys show some acrobatics in trees. But more than the sight, this is the sound experience of the jungle that is unique and indescribable with pictures: silence does not exist, we here plenty of cricket-like insects, birds seem to exchange insults from one tree to another, and at night, unidentified animals remind you that you're in their world.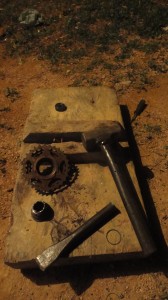 Brian tells one of the nights in the jungle : "I had some difficulties to sleep, because of the drops falling on my hammock, and I hear an animal hangind around me. With the tarp, I could'nt see what was happening. Morgan heard me scream in my sleep. Then I woke up and stopped moving. Finally, it was silent. Then nothing. I don't know what this animal was, but I was very scared !"
Challenge met !
We accomplished the Amazon mission, not without difficulties, and today we feel tired but extremely satisfied after more than a month in the jungle. We'll give a rest to our bikes in Santarém, and then in Manaus, and enjoy (another way, by foot!) the jungle, wildlife and streams of the region. We'll study the next steps of the trip, toward Central America. We keep on thinking to the next challenges, and already have some ideas… to be continued…
Related articles on Solidream
October 2, 2011 Solidfilm n°13 : Cycling the Amazon. Transamazônica highway We are cycling around the world. In this part of our journey, we decided to endeavour our biggest challenge so far on this trip: cross the Amazon rainforest on a bicycle, through a part of the tran...
November 26, 2013 24 hours in the noisome tropical ambience of the Amazon If ever there was an atmosphere that one remembers for the sheer volume of sound coming from it, it is the jungle. Using recordings we made in Amazonia we invite you to relive the experience, keepi...
June 17, 2011 South Bolivia: High Altitude Mountains by bike We started this trip through Bolivia by crossing the region of South Lipez and especially the National Parc Eduardo Avaora and the very famous Salar de Uyuni. The trails we used were far from reco...